Mountain Man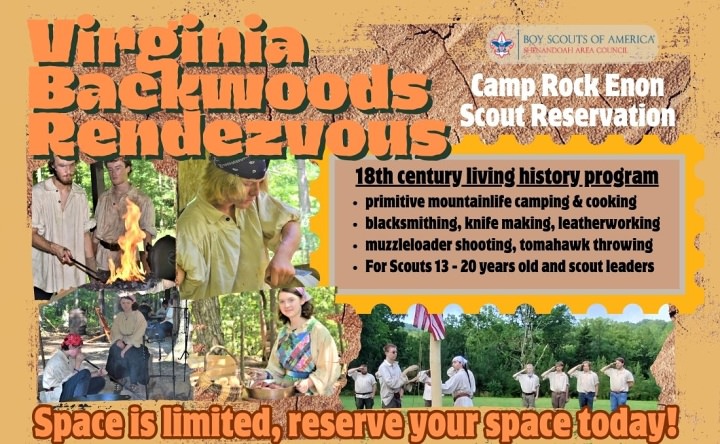 The Virginia Backwoods Rendezvous is a living history-type mountain life program offered at Camp Rock Enon Scout Reservation. Participants will travel back in time to late 18th century Appalachian Virginia where a single shot muzzle loader, an axe, and a hunting knife were the only tools a person needed to survive. Scouts will spend the week in a Rendezvous Camp without the traditional Scout Camp dining hall, platform tents, footlockers full of gear, and merit badge programs. At Rendezvous Camp, Scouts and leaders will dress, eat, and live like the backwoodsmen who explored, trapped, and eventually settled Virginia's western frontier.
The program is geared toward older Scouts who have taken full advantage of normal merit badge opportunities and are yearning for a new challenge. The rendezvous experience allows Scouts and leaders to use their Scout skills, work and learn together as a patrol, and experience the skills that were necessary to live on the American frontier.
During the program Scouts will:
Build fires using flint and steel
Cook over open fires
Make a sheath knife
Make a leather belt
Make a knife sheath
Learn Blacksmithing
Shoot black powder rifles
Throw tomahawks
To register to participate in the VA Backwoods mountain life program reserve your space in the summer camp registration system.
| File Name | Description | |
| --- | --- | --- |
| VA Backwoods Rendezvous Mountain Life Flyer | | Download |